When is a DA physical model required?
Woollahra Council requires a Development Application Model when the total cost of the works exceeds $750,000
A physical can also be produced in lieu of a photomontage for projects with a value of less than $750,000

Further information is provided on Woollahra Councils Website
What scale should the model be made at?
Woollahra Council permits models at 1:100, 1:200 or 1:500 scale.
1:200 is the preferred scaled for Kinkfab as fenestration and landscaping can be accurately shown and the model will be at a manageable A4-A3 size, however for particularly large sites (eg. 5,000m2 +) 1:500 may be more suitable.
How much context (surrounding area) should be shown?
It depends on a number of factors… At minimum Woollahra Council requires you to show:
'the built form of sites neighbouring and immediately adjoining the application site, in as much detail as reasonably possible. The model must demonstrate the proposed building in context with the topography and buildings that surround it and what has been approved on adjoining properties',
But for larger developments it may be beneficial to show more context area (eg. if there are similar sized developments nearby your site). Before determining how much context area to show, your architect should consult with your planner.
Please note that Woollahra has a 600x600x300mm size limit and 5kg weight limit on the physical model submission. Below are various sized developments with varying context areas.
Should I show materials/colours or can we make the model out of timber?
Council does not require you to show materials/colours, but does permit timber models on the physical model submission. From our experience, the most successful DA models are ones that show all the required fenestration detail, but are painted in a single colour, so to best blend into the existing environment and easily show its context relationship.
Coloured models often provide the opportunity for planners/objectors to comment on colours/finishes or even misread the design intention as it can be difficult to represent colours and material at this scale and can often make the model look 'cartoonish'.
While timber models may give the project 'warmth', they are not as detailed or durable as plastic models and are often misread by non-architects, resulting in a negative impact on your DA.

What is the cost and turnaround?
Unfortunately its impossible to give you an accurate quote until we have a look at your project and see the context area you would like to show. Pricing factors include:
Size and complexity of the development

Size and complexity of the context area shown

Extent of landscaping/trees on your design proposal and context
Turnaround is from 3 weeks.

What is the best way to represent landscaping and trees?
The natural landscape is of equal importance to the model as the design proposal itself. Given the size, and importance of trees within the Woollahra locality, it is in the applicants best interest to ensure their submitted model accurately depicts the natural environment. This is particularly important when large trees are blocking existing views and public views of your development.
Kinkfab is one of the few model makers in Sydney to accurately model the trees and landscape within the models. We use the highest quality, hand made trees and stock more than 50 varieties. Example of how we model the trees/landscape below:

What are the benefits of a high quality DA model?
The physical model is the most important part of the DA submission when it comes to Council planners and neighbours assessing the impact of your development. The model clearly show the form, bulk and developments relationship to its surrounding context; this is particularly useful for neighbours whom may not understand the project from the architectural plans. Models which are not accurate or that are built to a low standard may show your proposal in a negative light or show the project in a misleading way resulting in potential delays or a refusal of a DA.
Kinkfab is trusted by Sydney's top Architects and Developers to produce highly detailed and accurate DA models. The premium quality of our models means that our clients will often use our models for presentation and marketing purposes after the DA submission. As standard, they are constructed out of durable acrylics, painted with a matte white paint, and enclosed in a frame polished clear acrylic case.
Please be aware that our models are a premium cost compared to most other model making firms due to the additional time and effort that goes into them. While we can't compete on price with many firms, you will be receiving a superior product.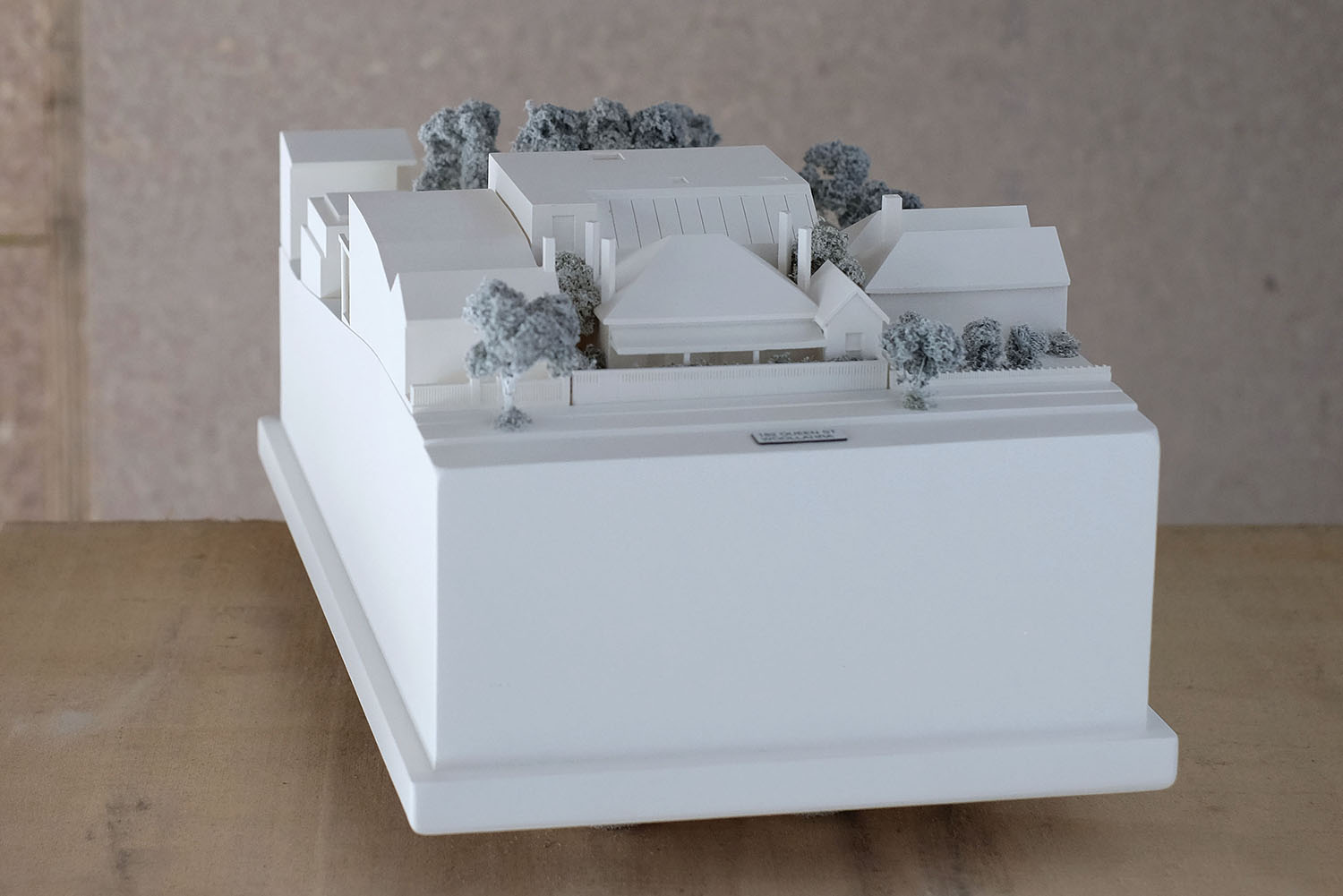 Please note: The above information should act as a guide only. Kinkfab recommends that you consult directly with Council or your Planner before appointing a model maker.